re:think dyslexia supports and works with adults with dyslexia informed by Shae's research and includes workplace assessment, individual and business coaching for start-ups, workplace consultancy and training.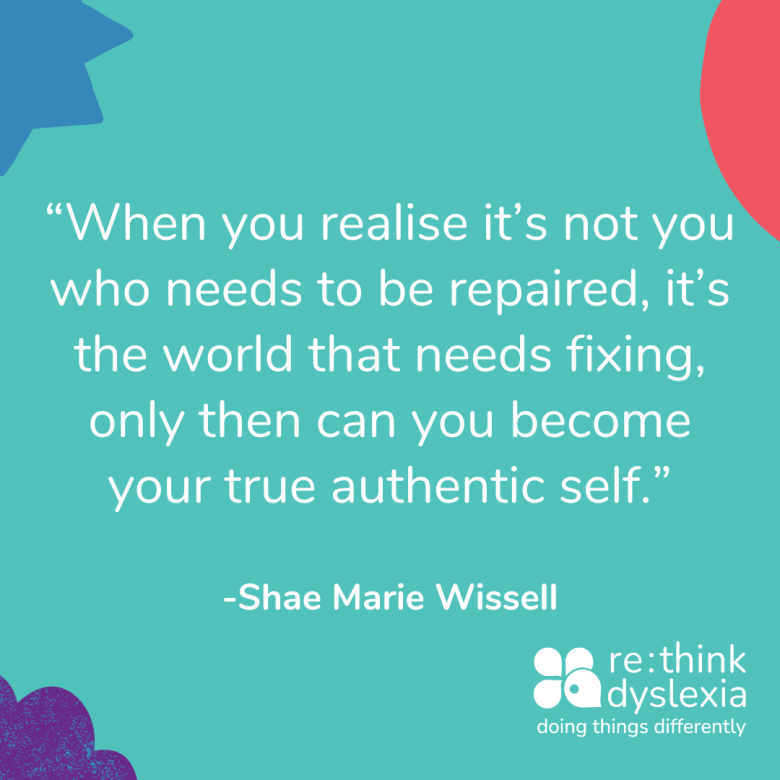 About Shae, dyslexic thought leader

Dr Shae Wissell is a respected thought leader, researcher and international award-winning advocate for adults with dyslexia, with a background in speech pathology, a Master of Public Health and Health Administration and a Doctor of Public Health. A seasoned entrepreneur Shae has extensive experience in health, not-for-profit and social enterprise industries using her business acumen to create successful ventures. She brings a wealth of expertise to her work running her own successful businesses as the director of re:think dyslexia and founder of the Dear Dyslexic Foundation its partnering charity. Shae leverages her diverse skillset and lived experiences of neurodivergence to offer valuable coaching and advisory services to individuals, entrepreneurs and organisations looking to take their lives and businesses to the next level.
Shae's research centres on the lived experiences of adults with dyslexia in Australia. Her work explores the social inequalities individuals with dyslexia may face across healthcare, education, employment, interpersonal relationships, and social and emotional well-being. Shae has published locally and internationally on work experiences, mental health, and well-being.
As a certified Fempire coach supporting adults with dyslexia in teh workplace and in businesses, Shae's strong coaching skills have helped many dyslexic individuals and business owners achieve their goals. Her empathetic and empowering coaching style helps her clients overcome obstacles and unlock their full potential.
Beyond research and coaching, Shae is accomplished workplace advisory offering consulting and learning and development programs that provide invaluable guidance to businesses seeking to create more inclusive workplaces. Her expertise in dyslexia and other learning differences has been instrumental in shaping workplace policies and training programs that foster greater diversity, equity, and inclusion. Helping organisations unlock the full potential of their neurodiverse employees. Through her innovative approaches to dyslexia advocacy and education, Shae is creating a brighter future for individuals with dyslexia, while helping businesses thrive in an increasingly competitive marketplace.
In addition to her research, Shae has won numerous international and national awards most recently a Highly Commended for her research with the Learning Difficulties Australia Tertiary Awards and Best Dyslexia Coaching Program recognised in the U.K Corporate Vision Awards. Shae is a confident public speaker, host of the Dear Dyslexic and the Hobo CEO podcast series, and published author. Her debut book, "The Hobo CEO: A Year in the Life of a Dyslexic Social Entrepreneur," reached the top spot on Amazon's bestseller list. With her unique blend of personal and professional expertise, Shae is a valuable asset to the dyslexia community and beyond.