Thank you for your inspiring presentation at our Learning Conference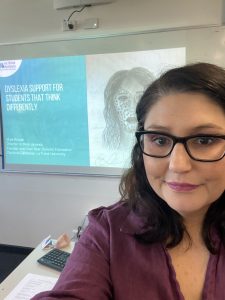 Dear Shae,
I wanted to take a moment to express my sincere gratitude for your outstanding presentation at the Learning Conference on Monday, your workshop, Understanding and Supporting Dyslexic Students in the Classroom and Beyond, an interactive session co-developed by Dr Judith Hudson and facilitated by host, was truly inspiring and left a lasting impression on attendees providing a great framework for us to continue to build on engagement and inclusivity at WCC.
You encouraged us to think about how to better include and engage all students. Your insights and strategies will undoubtedly help us to create more engaged and inclusive classrooms and to better support our diverse student population.
Your presentation was both informative and motivating, and I know that many of us left the workshop feeling inspired and empowered to make positive changes in our teaching practice.
I want to personally thank you for your contributions to the conference and for your dedication to helping educators become more effective in their work. Your presentation was a highly valued, and we are all grateful for the time and effort you put into preparing and delivering such an insightful workshop.
Once again, thank you for your inspiring presentation. I look forward to applying the strategies you shared and continuing to learn from your expertise in the future.
Sincerely,
Connie
Ms Connie Faranda
Assistant Principal
Join our
Dear Dyslexic Community
on Facebook.  This group has been set up to talk about all things dyslexia, to provide peer support to those who are dyslexic. This is an open, safe forum free from discrimination, but not free from spelling or grammar mistakes!